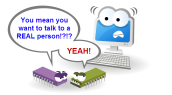 YOUR TECH TAMER
9 E Dartmouth Circle
Media, PA 19063
Phone: 610 566 0664

email: Information
email: Webmaster

Critical Mass Radio Show - Feb. 16, 2012
Smart CEO Magazine - May 2011, Page 15
Construction Business Owner Cash Flow Article - Nov. 2010


Sandra Clitter founded YOUR TECH TAMER in 1998.
As an Information Architect and Business Processes consultant, Sandy provides her clients with insightful solutions to business challenges. She works with small and mid-sized companies, helping them to manage the data and systems that drive their business, rather than allowing the systems to drive the processes.
Previously holding positions as Vice President of Finance at R-Tex Ribbons and Decorative and Quaker City International, then the post of Director of Information Technologies for Re:Source Americas (a division of Interface, Inc), Sandy has a unique perspective for truly understanding the business requirements and challenges, while understanding the technology solutions which appropriately support the business. While at Re:Source, she implemented computer network spanning 86 locations to support a $750 million division.